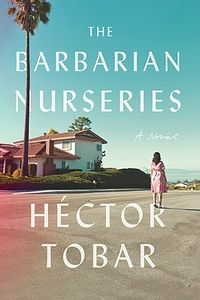 C'est Valérie qui dans un commentaire m'avait soufflé le nom d'Héctor Tobar. J'ai donc emprunté The Barbarian Nurseries à la bibliothèque.
J'ai tellement traîné pour écrire mon commentaire sur The Slap que celui-ci en pâtira certainement (si on veut). Impression générale : bon roman, intéressant, drôle, mordant et très bien écrit. Héctor Tobar est journaliste et ça se voit. Son histoire est précise, détaillée (je n'irai pas jusqu'à dire javellisée comme la maison des patrons d'Araceli, mais il y a de ça), vraisemblable en fin de compte. Il connaît très bien Los Angeles et nous fait découvrir les différentes réalités qui s'y côtoient. De ce point de vue, The Barbarian Nurseries est passionnant.
Mais justement, parfois Héctor Tobar veut trop bien faire. Oui, son histoire est crédible. Non, il ne veut oublier aucun détail (ce qui explique les 432 pages). Mais ça en devient fastidieux et j'ai eu l'impression que l'histoire ne démarrait vraiment qu'au milieu du roman. Suivent quelques pages palpitantes, puis on retourne à la même narration précise, détaillée. Je ne me suis pas ennuyée à la lecture de ce roman, mais il me fatiguait. J'avais envie qu'il en arrive au but. Le personnage d'Araceli est fabuleux : la bonne méprisante, qui tire la tête pour qu'on la laisse faire son travail en paix (avec de la répartie, mais uniquement intérieure puisque son niveau d'anglais ne lui permet pas de s'exprimer). J'ai beaucoup aimé la fin même si Héctor Tobar ne nous dit pas si Araceli retourne au Mexique ou reste aux Etats-Unis. Donc, pas un coup de cœur, mais je recommande.
Trois extraits :
She took off her uniform, purging herself of her servant identity as the big blouse and pants fell into her hamper. Probably she wore the uniform precisely for this moment when she could put on her own clothes, a pair of leggings or jeans that transformed her into the Araceli who once haunted galleries and clubs in Condesa, Roma, and other Mexico City neighborhoods. Thank you, family, for these uniforms. I send you thousands of dollars earned with my sweat and you send me five filipinas.
Once it had been taboo to complain about their families and the demands they made. A Mexican daughter in exile was supposed to place individual ambitions aside and make ample cash transfers in the name of younger siblings and nephews. So their money flowed southward, every month without fail, even as the months and years passed and the voices on the other end of the telephone became older and more distant. Their U.S. wages fertilized a tree of family narratives that had grown many new and gnarly branches that no longer involved them directly. Now Araceli and Marisela complained openly and without guilt, because it had become painfully clear that their families didn't understand the complications of life in the supposedly affluent United States of America, and because their relatives were using their telephones as probes to discover how deep the well of dollars went, as if they sensed, correctly, that the faraway daughters in exile were squirreling away money for their own selfish use.
(...) Gus Dimitri took time to think that California had really pushed this immigrant-servant fad to the extreme. (...) At about the time Gus Dimitri had retired from the workforce, California had gone mad with immigrant-hiring—from front yards to fast-food joints, these people did everything now. They were good workers, yes, real old-fashioned nose-to-the-grindstone types. But jeez: Didn't Americans want to do anything for themselves anymore?
With The Barbarian Nurseries, Héctor Tobar gives our most misunderstood metropolis its great contemporary novel, taking us beyond the glimmer of Hollywood and deeper than camera-ready crime stories to reveal Southern California life as it really is, across its vast, sunshiny sprawl of classes, languages, dreams, and ambitions.

Araceli is the live-in maid in the Torres-Thompson household—one of three Mexican employees in a Spanish-style house with lovely views of the Pacific. She has been responsible strictly for the cooking and cleaning, but the recession has hit, and suddenly Araceli is the last Mexican standing—unless you count Scott Torres, though you'd never suspect he was half Mexican but for his last name and an old family photo with central L.A. in the background. The financial pressure is causing the kind of fights that even Araceli knows the children shouldn't hear, and then one morning, after a particularly dramatic fight, Araceli wakes to an empty house—except for the two Torres-Thompson boys, little aliens she's never had to interact with before. Their parents are unreachable, and the only family member she knows of is Señor Torres, the subject of that old family photo. So she does the only thing she can think of and heads to the bus stop to seek out their grandfather. It will be an adventure, she tells the boys. If she only knew . . .

With a precise eye for the telling detail and an unerring way with character, soaring brilliantly and seamlessly among a panorama of viewpoints, Tobar calls on all of his experience—as a novelist, a father, a journalist, a son of Guatemalan immigrants, and a native Angeleno—to deliver a novel as broad, as essential, as alive as the city itself.